You are here
Nature poems for Earth Day 2020
During this time of social isolation, when our lives can feel like they're on hold, many people are finding solace in nature as spring carries on regardless. With less traffic (both road and sky) the air seems fresher, full of bird song and on their daily walks people are discovering patches of wilderness not far from their doorsteps, sometimes in the most urban of areas.
Each year on 22 April, Earth Day takes place, and 2020 sees its 50th anniversary. In 1970 the first Earth Day gave voice to an emerging public consciousness about the state of our planet. To mark Earth Day we've been taking a ramble through the nature poems on our website. Poets have a reputation for being attuned to the natural world and some of the best known poems from the English canon are nature poems. From Shakespeare pointing out that his mistress just can't compete in Sonnet 130: "My mistress' eyes are nothing like the sun; / Coral is far more red than her lips' red…" to Wordsworth stumbling upon his: "host, of golden daffodils; / Beside the lake, beneath the trees, / Fluttering and dancing in the breeze".
A search for Nature poems on our website will lead you to 19th century poets including Gerard Manley Hopkins with 'God's Grandeur', Emily Dickinson's 'The Sky is low—the Clouds Are Mean' and Matthew Arnold's 'In Harmony with Nature'. You will also find poems for children such as Christina Rossetti's 'Hurt No Living Thing' and Paul Laurence Dunbar's 'The Seedling'. But you will also find the contemporary amongst the classics and here are some of our favourites to challenge and inspire you this Earth Day.
Flamingo Watching / Kay Ryan
American poet Kay Ryan first reached a wider audience in the UK when she appeared at Southbank Centre's Poetry Parnassus in 2012, part of London's Cultural Olympiad. Her poems are playful and profound, and this observation of the flamingo is a perfect example of Ryan's gift, making you look at this bird and nature in a new light. Ryan's selected and new poems Odd Blocks, published by Carcanet, is available to read in our ebooks collection.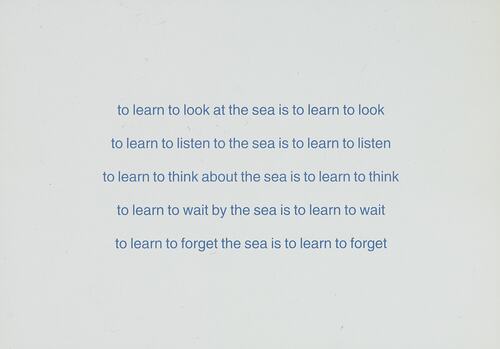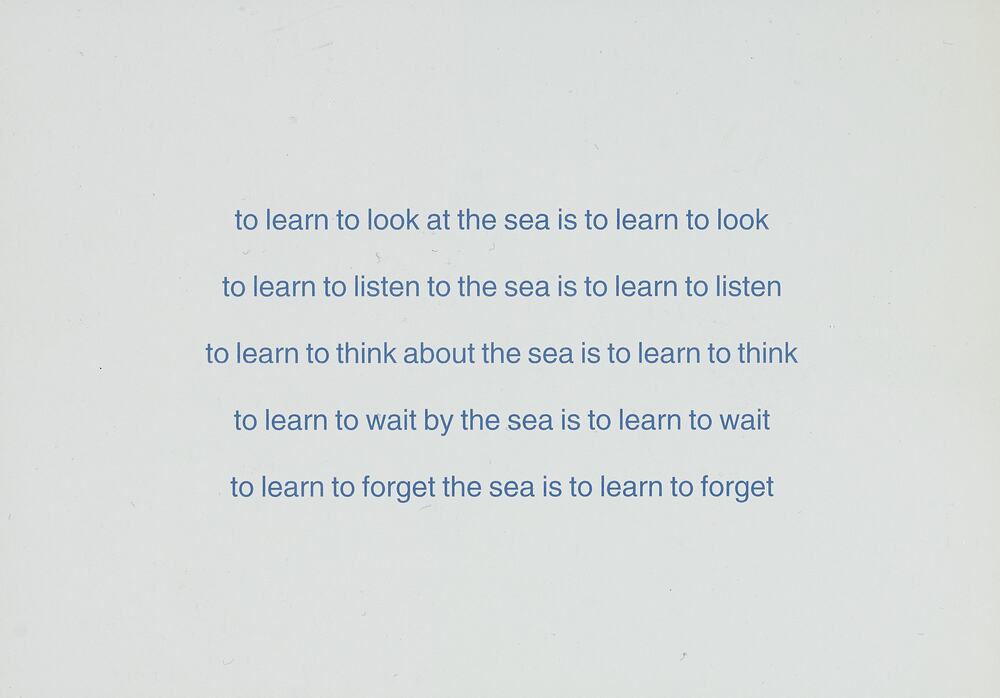 Five Waves / Thomas A. Clark (Essence Press, 2003)
Thomas A. Clark's work is rooted in the landscape and walks that he has taken. This poem comes from our postcard collection — exacting and minimal, Thomas A. Clarke's work can feel like a blast of fresh air.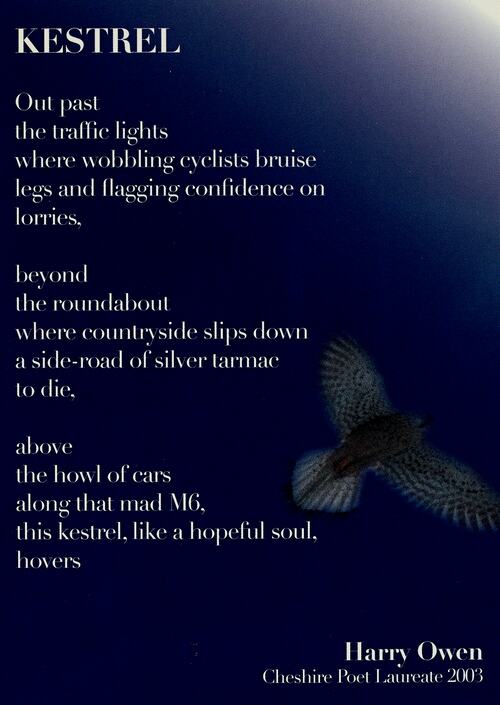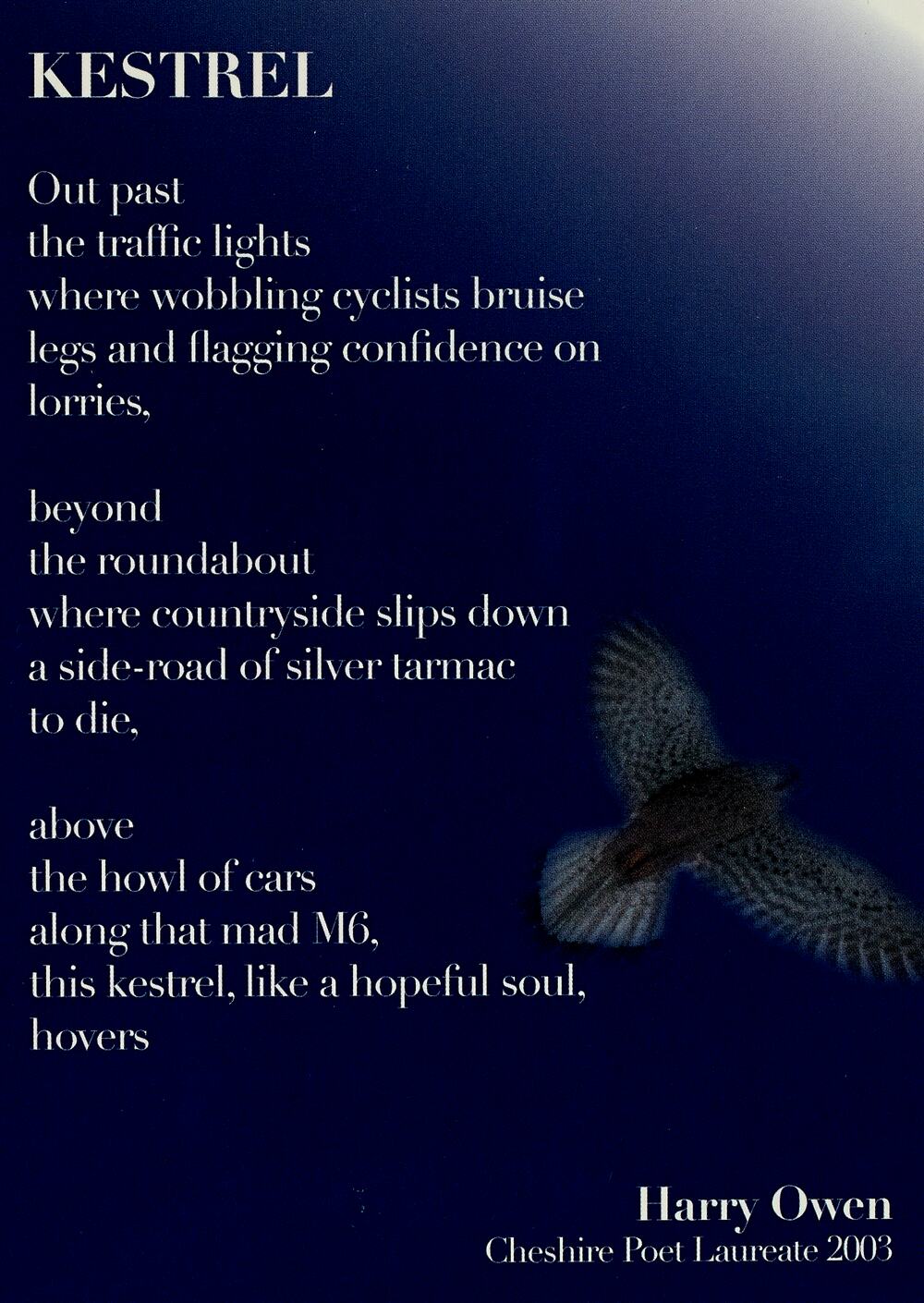 Kestrel / Harry Owen (2003)
In this poem by Harry Owens, a kestrel glides cooly above the noise of urban life. This postcard is one of a series produced to promote the reading of poetry as part of Time to Read, a partnership of 22 library authorities in North West England. Many of the poems feature the natural world and include work by Carol Ann Duffy, Andrew Forster and Rebecca Goss.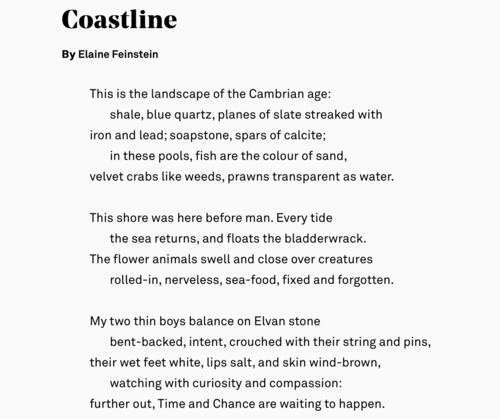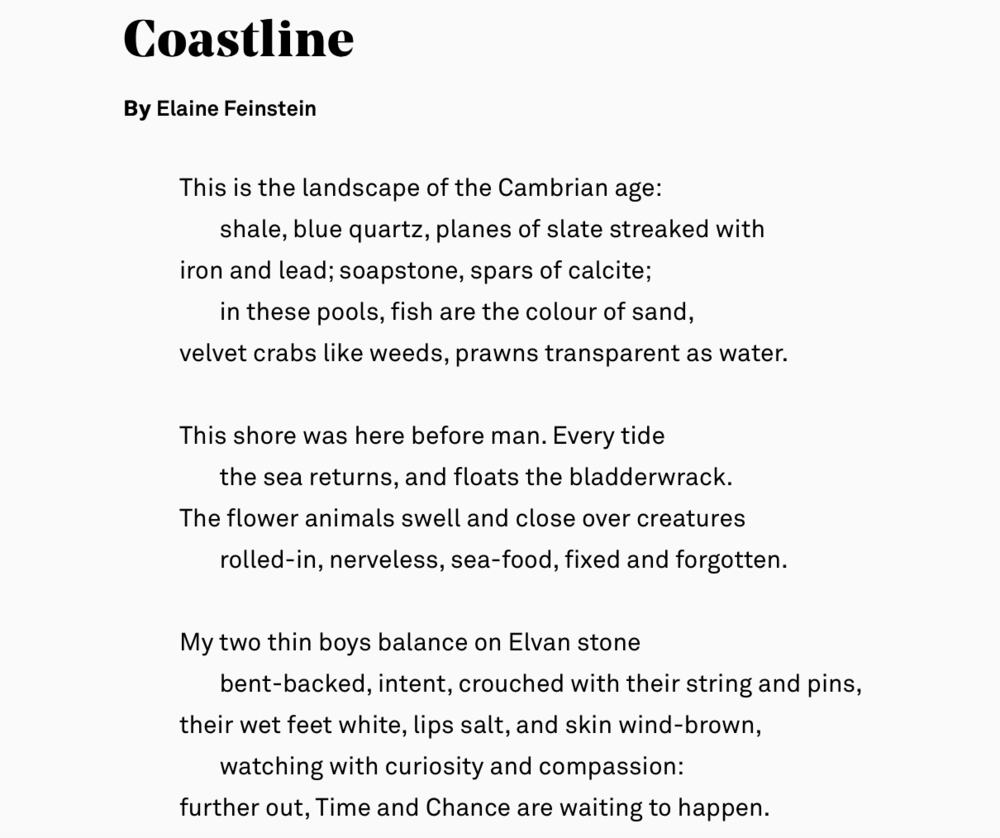 Coastline / Elaine Feinstein (Poetry Nation No. 6, 1976)
Last year the poetry world lost one of its finest, Elaine Feinstein. Feinstein's was a fearless voice that rose to prominence with other female writers in the 1970s, capturing the spirit of the Women's Movement. Her poetry often deals with the complications and joy of domestic life and in this poem the fragility of her young sons is contrasted with the enduring coastline; her words are as vivid as a landscape painting. Elaine Feinstein read at the National Poetry Library as part of our Special Edition series in April 2018 and you can listen to the recording on our Soundcloud.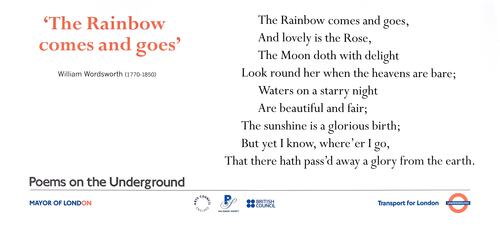 The Rainbow comes and goes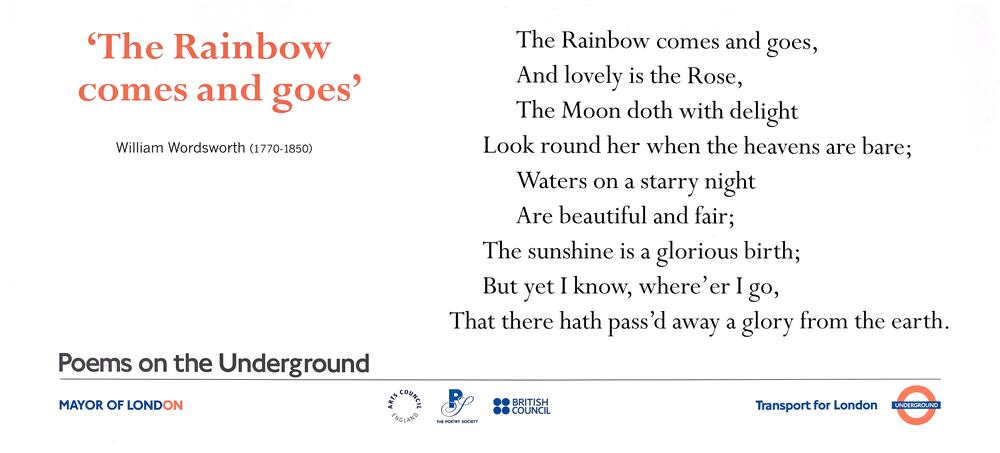 Poems on the Underground
The Rainbow comes and goes / William Wordsworth (Poems on the Underground, Series 62)
No selection of nature poetry would be complete without William Wordsworth, his work is synonymous with the landscape of his native Lake District. This poem poster is part of the Poems on the Underground Series, giving Londoner's a slice of nature while they're deep underground on their commute (though this poem is a somewhat melancholy touch of the transience of the natural world).
Ariel's Other Song / Karlo Mila
The title of this poem refers to the song of Shakespeare's character Ariel in The Tempest, where a drowning is mourned. In this new song, by Karlo Mila, the narrator has been on dry land too long and is desperate to get back into the sea; "I know the ocean, she loves me". A celebration of abundance, femininity and floating.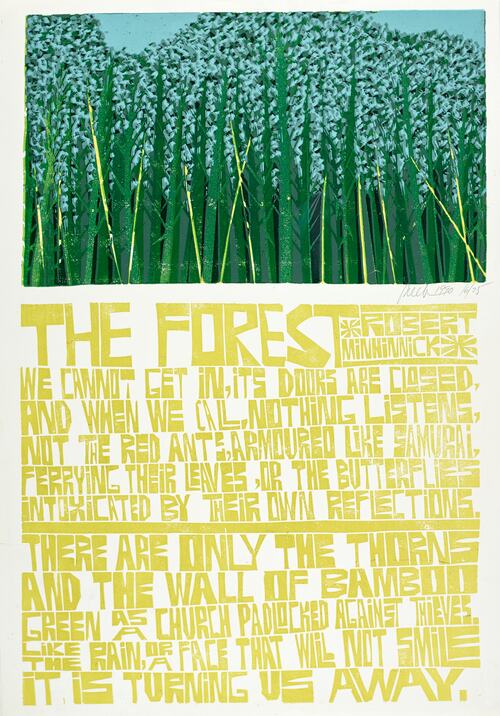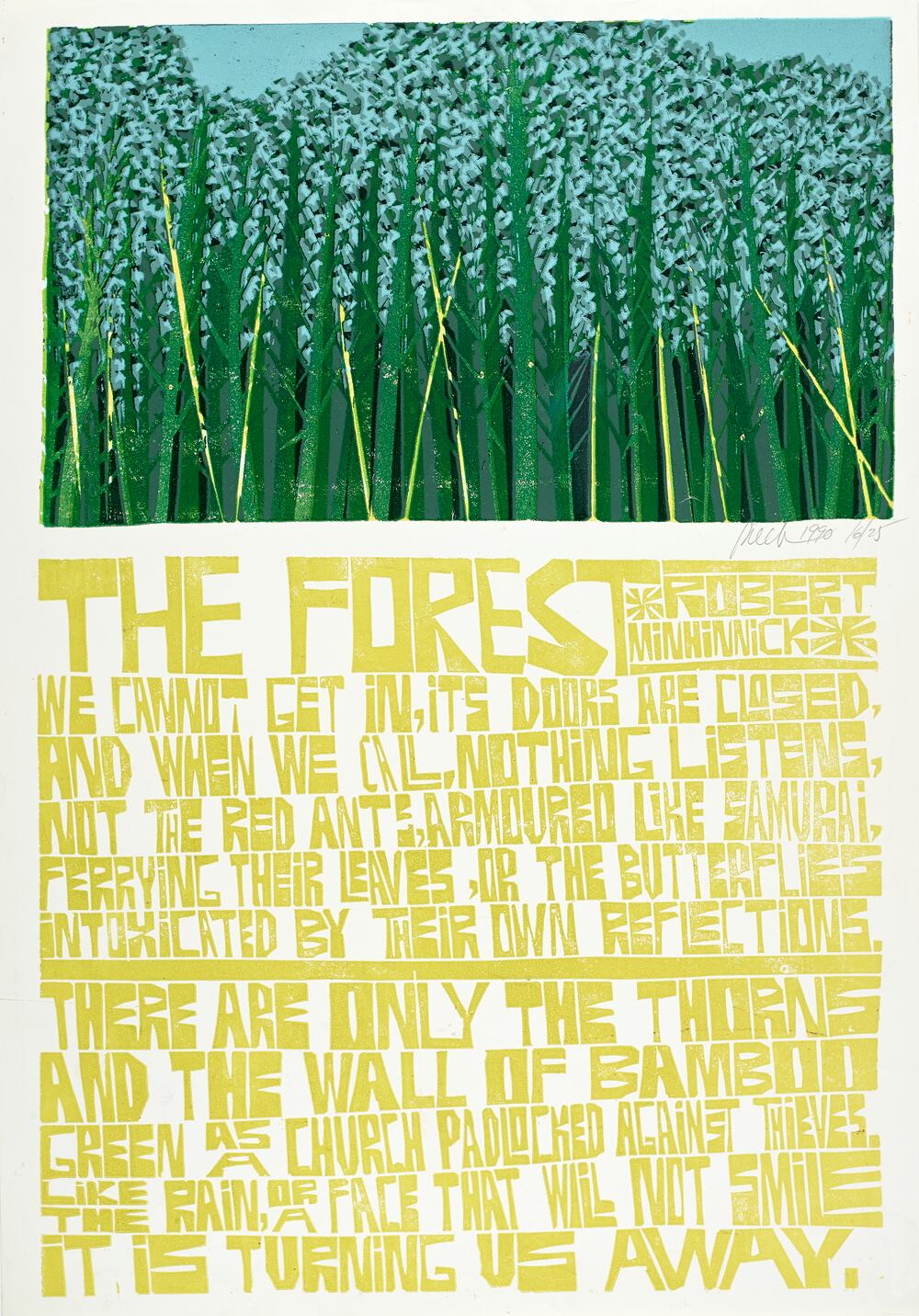 the Estate of Paul Peter Piech
The Forest / Artwork by Paul Peter Piech (1990). Words by Robert Minhinnick
Paul Peter Piech worked for most of his life as a printmaker in the UK, producing prints, posters and books from his home. His work is always joyful, bold and often concerned with the literary world — this poster combining his striking forest with the words of Robert Minhinnick is typical of Piech. We're lucky to have a large number of his posters as part of our physical and digital collections and we urge you to browse his work on our website.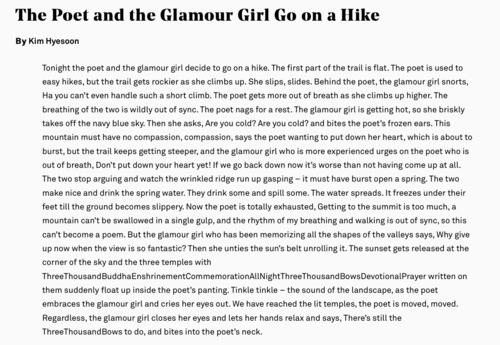 The Poet and the Glamour Girl go on a Hike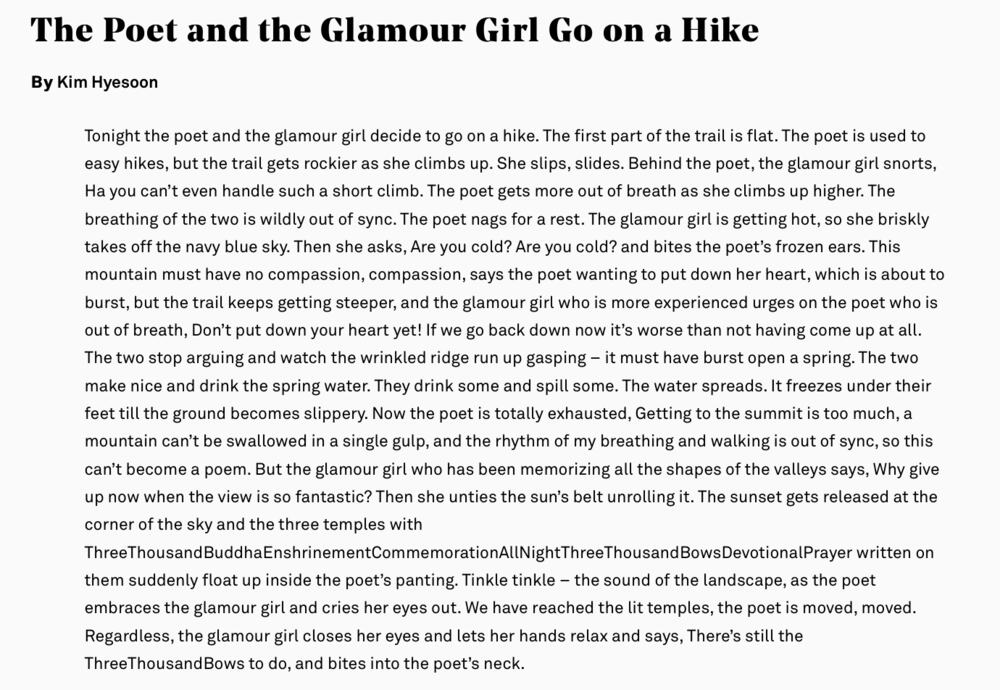 The Poet and the Glamour Girl go on a Hike / Kim Hyesoon (From Modern Poetry in Translation, 2012)
Renowned contemporary South Korean poet Kim Hyesoon's name might not spring to mind when thinking of nature poems. But in this prose poem translated by Don Mee Choi, Hyesoon weaves an intricate plot as her subjects ascend a mountain trail. We are taken to a beautiful vista point which is the only witness, along with the reader, to a climactic moment of darkness.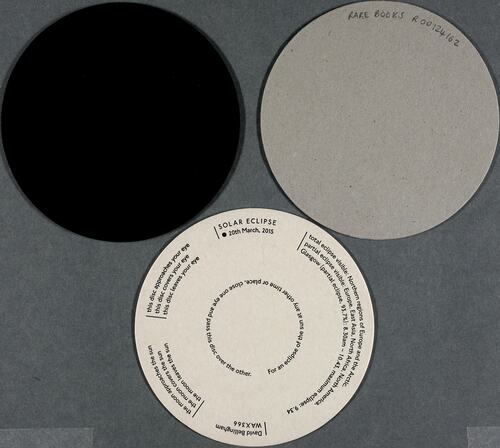 Solar Eclipse : 20th March, 2015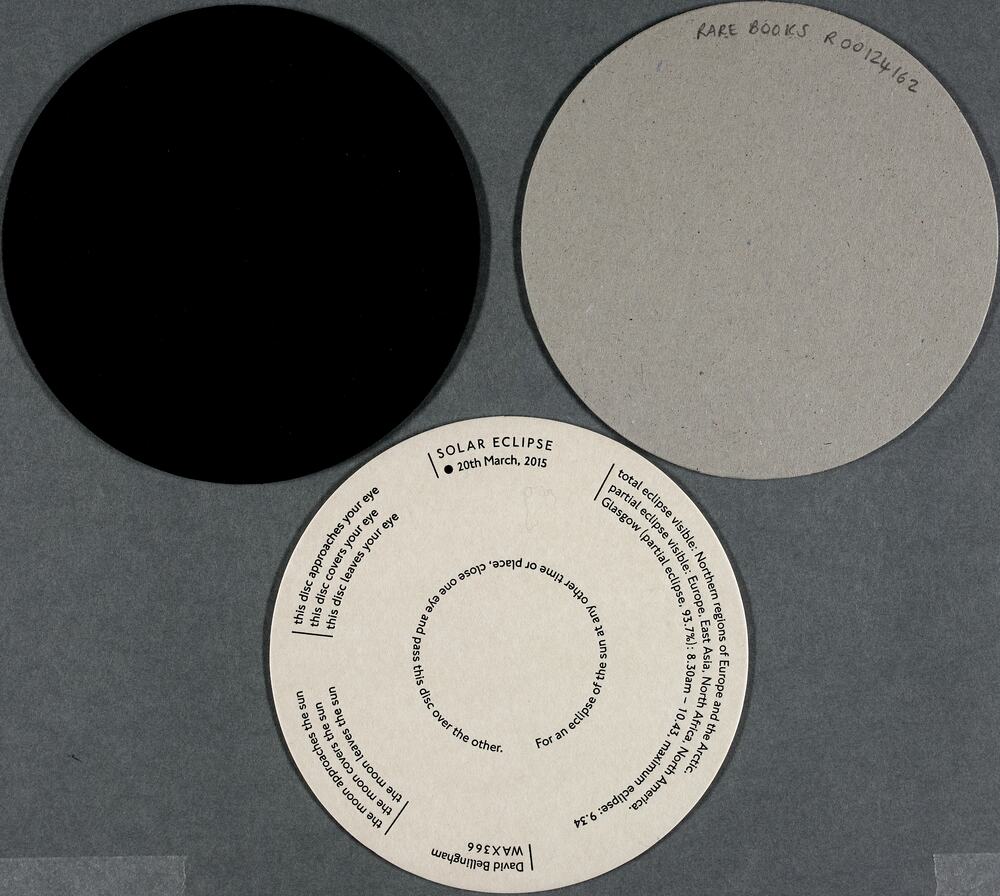 Solar eclipse : 20th March, 2015 / David Bellingham (WAX366, 2015)
David Bellingham's sense of humour comes through in these three simple, circular cards, evoking the solar eclipse of 2015. Published by the artist's own press WAX366, Bellingham has taken the grandeur of the moon plus the elusiveness of an eclipse and made it into something playful. We can shuffle these discs in our hands and hold each up to the sky, creating our own eclipse whenever we like.